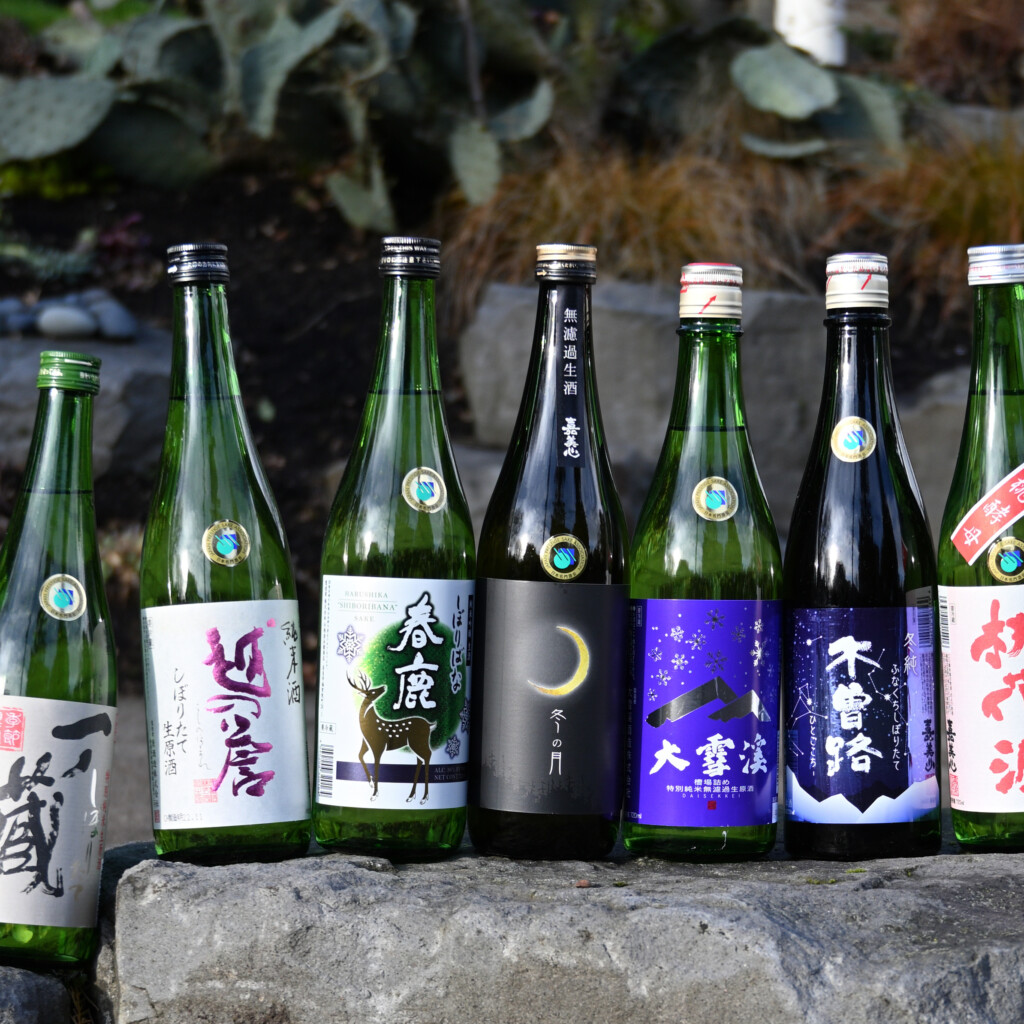 Well it doens't look like Spring here, it's still very cold but that's ok because Spring Namazake is here!!! Namazake are unpasteurized sake and these are the first of the season (Shiboritate). Namazake are my speciality, my pride and joy so please drink them now while they are fresh.
If you are in Portland, they are available to taste and purchase at Fulamingo inside the Wellspent Market. Links in the titles will take you to Sec Wines, which ships nationally. If you are having any trouble with your cart, just call or email Eric. Refrigerate as soon as you receive them, drink within a year and within 3 days once open or optimal profile. 
Hiraizumi "Four Seasons" Shiboritate Yamahai Junmai Nama Genshu
From one of my favorite berries and prefectures, this is a brand new export. The nose is quite subtle, with some dried orange peel. The palate is smooth with a hint of Koji richness, and complex acidity. There are layers of complexity from the warm lactic fermentation but you'll need to ponder this one, perhaps at room temp with charcuterie, mushrooms or yakitori.
14.0%, SMV ±0, 1.9 Acidity, 1.1 Amino Acid, 60% polished Miyamanishiki and Akita Sake Komachi (Akita), Akita yeast No.15
Harushika "Shiboribana" Junmai Ginjo Nama
Last year they blended two different rice types but one tank felt superior so that used that rice exclusively this year, Fukunohana from Hyogo. There's a sweet nose of yellow flowers. The palate is at once more elegant and more savory than in years past showing strawberries then tahini on a crisp and clean finish.
16.0%, SMV -1, Acidity 1.4, Amino 1.4, 60% polished Fukunohana (Hyogo), house yeast.
Kamikokoro "Fuyu no Tsuki" Junmai Ginjo Muroka Nama
New last year and a crowd favorite, back again with a fragrant nose from the white peach yeast. There's wonderful Rainier cherry on the fleshy, Ginjo palate. Just the right amount of acidity to balance the fruitiness. Serve with creamy dishes like Vichyssoise.
16.0%, SMV -3, Acidity 1.5, Amino 1.2, 58% and 50% polished Akihikari (Okayama), Momo White Peach Yeast.
Ichinokura Shiboritate Junmai Nama Genshu
What a super pretty nose of lilac and lychee cotton candy balanced by steamed rice undertones. Gorgeous! The palate leans more umami and cooling herbs with a cleansing acidity on the finish. Nice with braised dishes such as Sakana no Nitsuke.
17.0%, SMV -5. Acidity 1.7. Amino 1.5, 55% polished Sasanishiki (Miyagi), house yeast.
Koshinohomare Shiboritate Junmai Nama Genshu
I just visited this brewery in the small coastal town of Kashiwazaki. Please see a few of my pictures. Founded in 1814, the daughter has been in charge of the Koji for the past 2 years resulting in a massive jump in quality. They are making a new modern style of Niigata which is juicy and exciting instead of dry and boring. The nose has lots of white grape and golden apple. It's made with an obscure local rice called Takamenishiki combined with the house yeast to produce a melon filled mouthfeel. The finish is soft and savory with some minerals.
17.0%, SMV +3, Acidity 1.6, Amino 1.1, 65% Takanenishiki (Niigata), house yeast.
Daisekkei Tokubetsu Junmai Muroka Nama Genshu
This burst on the scene last year to rave reviews. It's just as incredible this year. Not to be missed. The cap pops a bit when opened due to slight effervescense as it was bottled before blowin off the CO2 from fermentation. The palate is invigorating as it dances expressing lime skin oils then a bit of melon before a crisp finish. I'm in love with Nagano right now precisely because of Nama like this.
17.0%, SMV +3, Acidity 1.8, Amino 1.0, 59% polished Hitogokochi (Nagano), blend of Kumamoto yeast and Kyokai 1001.
Kamikokoro "Tokagen" Shiboritate Junmai Ginjo Muroka Nama
Another Momo White Peach yeast blockbuster from Kamikoro. It's really juicy and even a bit sweet showing mango richness transitioning into an herbal finish. An all-time favorite of Urban Sake Tim Sullivan, here's a Sake Revolution podcast on it. Pair with roast pork.
16.5%, SMV -6, Acidity 1.6, Amino 1.2, 58% polished Akihikari (Okayama), Momo White Peach Yeast.
Kisoji "Funakuchi" Shiboritate Junmai Ginjo Nama Genshu
I fell in love with this brewery last year because of their Hiyaoroshi. This Funakuchi is exported now for the first time. The nose is electric! A prototypical Nama – Juicy! Enormous! Fun! Lots of yeast 9 strawberry plus the highly aromatic yeast 14. Then it finishes with a slight astringency and a bit of dryness which really surprise and balance making this a total package. Try with foie or bacon.
16.0%, SMV ±0, Acidity 1.4, Amino 1.2, 60% polished Hitogokochi (Nagano), yeasts 901 and 1401.
Gokyo Arabashiri Junmai Nama Genshu
A winner every year and this is no different. Juicy nose of cantaloupe and cherry. Palate is amazing – everything I have come to expect from Gokyo. There's banana bread, including clove then there's that signature savory undercurrent of crispy poultry skin doused with lemon. Great as an aperitif or with any weekday dinner. There are still some of the 5 series left, shhh.
17.0%, SMV +1.0, Acidity 1.8, Amino 1.6, 60% polished Nihonbare (Yamaguchi) and Yamadanishiki (Yamaguchi), Yeast 1801 and 9E
A note about rice and yeast
If you see two rice listed above, the first one is for the koji (rice used to propagate the initial fermentation) which turns starches into sugars and the second rice is for the main brewing batch when the yeast is added. If there are two yeasts, those are typically done in separate tanks and blended before bottling. A yeast with a "01" at the end is just a low foaming variant and won't taste any different than one without the "01".
Key to Kanji
純米 Junmai Sake doesn't use brewers alcohol to extract aromas. All of the above are Junmai.
特別 Tokubetsu means special. Less than 60% rice left after polishing or using a special rice.
吟醸 Ginjo has <60% of the rice left after polishing. Typically clean with big fruity aromas from the yeast.
山廃 Yamahai starts with a warm lactic fermentation to develop the acidity.
生酛 Kimoto is the ancient way. Similar to Yamahai but cold fermented and usually mixed with a pole. Can be more lactic than Yamahai.
あらばしり Arabashiri are the first drippings of a Sake batch. Lively and bold, often Nama Genshu.
搾り立て Shiboritate are freshly squeezed and not rested before shipping.
冷やおろし Hiyaoroshi are specail fall release Sake. Brewed last year and aged at the brewery. No second pasteurization.
無濾過 Muroka has not been charcoal filtered so they'll age quicker.
原酒 Genshu has not been diluted with water.